We give the best Services
Cleanliness status of a shop demonstrates the standard of the services being provided there. A businessman can't compromise on the cleansing of his trading place. It can prove risky if any corner of a shop, its dealing area or show place is dirty and dusty ___ as you would directly lose a customer if he founds your reseller point in such a condition. First impression is the last impression! So, a trader needs to be highly cautious in this respect. Unsoiled floor, stainless showcases, flossed sitting range, and scrubbed products to be sold play an important role in catching the eye of customer.
An upstanding and spotless surrounding radiates a feeling of peace and comfort not only for the buyers but for the sellers too. It also adds to the worth of beauty of the shop resulting in enhancement of trader's repute. These all together proves sufficiently beneficial in growing sales by achieving customer attraction and contentment. United Arab Emirates especially Dubai is famous all over the world for its charm. This glamour lies upon the fact that it is considered the centre of international business and trade.
People from every corner of the world rush here to establish business or for shopping purposes. So the commercial areas of UAE possess great significance in alluring customers. Keeping in view this certitude, the urge for cleaning services in Dubai is at its highest rank as well as in other states of UAE. Businessmen try to present their shops or trading areas in their finest look here ___ obviously, it's crucial to attract more and more customers. Only a well-settled and unstained surrounding can convey satisfaction and peace to the clients and they prefer to shop from such a reseller point. Traders mostly seek for a reliable cleaning company to get maid service.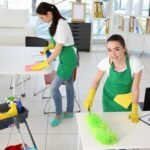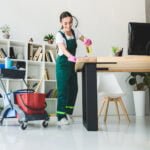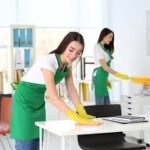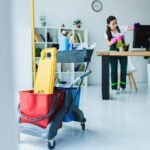 Helenmaid is one of the adequate cleaning companies proposing top-class commercial cleaning services in Dubai, Sharjah and Ajman. We have a qualified crew of highly-trained professional cleaners which deliver up to the mark commercial cleaning outputs. What's to consider is, Helenmaid possesses 8 years of experience in offering flawless and quick cleaning services at achievable rates. We use best suitable equipment and latest beneficial techniques to ensure stainless and dust-free environment.
Our skilled team is expertise in providing floor cleaning, commercial carpet cleaning, sofa cleaning services, deep cleaning services, furniture cleaning, and services for all other entities regarding commercial and industrial cleaning. This maid pro cleaning business works on the key principle of honesty in dealing and ample client satisfaction. What to wait for ___ grab immediate and premium commercial cleaning services by Helenmaid through just a call!